Fantastic Acroatia Questions
What does word "Acro" means?
-acro- comes from Greek, where it has the meaning "high. " This meaning is found in such words as: acrobat, acronyx, acrophobia, acropolis, acronia, acroyoga…
What and where is Croatia?
The crescent-shaped country located in southeast Europe, Croatia is geographically diverse and undeservedly beautiful.
What is Acroatia?
Acroatia is an acrobatic festival held once a year in the unbelievable nature of Croatia. In our workshops, we mainly cover partner and standalone acrobatics disciplines like Acroyoga, Icarians, Whips, L-basing, Standing, Dance & Group Acro (Trios, Banquine…) Floorwork Acrobatics, Inversions, Handstands….
Our participants often do yoga, ariel acrobatics, pole dancing, slackline, climbing, juggling, capoeira, salsa, gymnastics, callisthenics, cycling…
Is Acroatia for you?
If not for you then for who?
It is intense, it is breathtaking, it is out of your comfort zone, it is gorgeous, and it is something that you will never regret doing once you are old(er).
We do invite all levels to the festival and you do not need to come with the partner. Please, do not expect us to be an Acro Tinder app (this thing usually resolves by itself)  😉
Last year's applications (level & base/flyer ratio):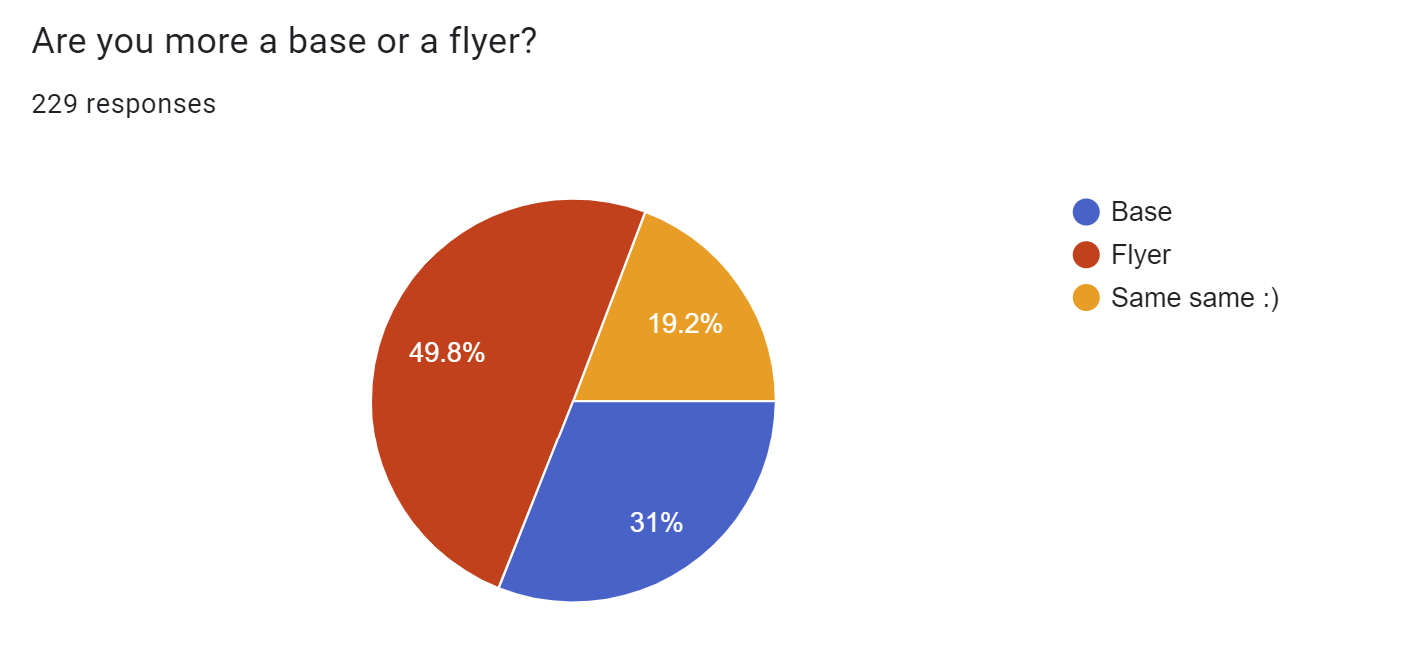 Tell me more about the location?
The location is stunningly beautiful and this beauty comes with a price!
The location is remote and it is not the easiest to arrive at. Once you reach us, you won't be able to take a walk to a nearby store or a cafe.
The infrastructure is raw and simple and it provides everything you'll need. There is drinkable water, dry toilets, camping-style showers, food, and coffee. 🙂 We have electricity, but the grid is not so strong, which means that not everyone can charge their electronics simultaneously. As for the internet- we provided a Starlink (internet) setup which was working well.
What's the weather like?
Croatian summers are hot, but we did have rain and storm surprises in 2023 (as in most of Europe). This is not usual but we can't predict the conditions for 2024.
We do our best to make the environment cozy but we can't beat the weather, so please make sure to bring clothes that make you feel cozy in case of rain and chilly temperatures.
What type of accommodation do you offer?
You are welcome to come up with your own solutions:
tent
van (places for the vans are limited and you need to let us know in the registration if you are coming with one)
There are also accommodations that you can book from us:
mattress in a dormitory (10-12 mattresses)
hut with two separate beds
tent
floating tent
In either of the cases, you will have to bring your sleeping bag with you! (if you can't, write to us)
Do not expect luxury/glamping conditions. It is not that kind of fun 😉
How do you select the teachers?
All of our teachers are personally selected, they were a part of Acroatia in one way or another, and we grew with them throughout the years. Some of the criteria that are important to us are their personal movement practice, their love for wild nature, and sharing a similar frequency.
We do open one spot each year for the teachers who never participated in the festival and whom we maybe never even met. You can apply on our website.
At the heart of Acroatia lies our vision of creating a synergy of like-minded people, nature, and movement.  We take immense pride in our teacher selection year after year, although our truest desire is that you come for the experience, not the names.
All our teachers are paid the same, with no exceptions.
What type of food can I expect?
The cooks provide us with 3 vegan meals a day.
Boiled eggs, fresh cheese, and other vegetarian options are a part of most meals, but the cooks do not incorporate them into their cuisine.
During the day you are always welcome to take some snacks (fruit, bread & spread…).
The extra curriculum menu is meat which we prepare every 3-4 days. For that, you need to put yourself on the list upon registration.
Can I bring my kid/s?
The short answer is: yes.
The long answer is:
Yes, you can bring your kid/s.
The kids can partake in the workshops as long as you are taking that workshop with them and they aren't disrupting other participants or the teacher/s. We don't offer a program for kids yet (maybe you want to offer something? Write to us!).
You are responsible for their well-being and safety.
Can I bring my dog?
The short answer is: yes.
The long answer is:
You are welcome to bring your dog as long as you are sure they are well-adjusted and friendly towards other dogs, kids, and people.
During the workshops, your dog needs to be away from all the action, for the safety of the dog and the participants.
During the meals, your dog shouldn't be roaming among people eating.
Keep in mind that some people are afraid of dogs or just don't like them.
You are responsible for any poo lying around.
Can I arrive earlier?
To ensure a smooth arrival for you and smooth logistics for us, please plan your travel in a way that you can arrive at the official start of the festival.
Our registration desk and accommodation arrangements start at 13h on the arrival day.
How does the shuttle service work?
We have organized free shuttles for transportation from Ogulin to the camp.
Each official arrival and departure day has 2 FREE shuttle slots that you can put yourself down for once you receive the 'Welcome letter'.
We also offer a paid shuttle service in case you need to travel outside the offered slots. You can put yourself down for the ride once you receive the 'Welcome letter'.
Please keep in mind that the PAID shuttle can be booked for between 07h and 20h.
Is there something to do apart from training?
You can take a walk on the pathway that leads to, what used to be, a fortress Frankopan. Sadly, the fortress is gone, but you will get a nice view of the canyon.
You can take a canoe and explore one of the two rivers that we are on. The silence and the colors will surely fill-up your batteries.
We are on two rivers, so swimming is always an option.
We also offer to arrange diving and/or rafting with the local club. For more info about this go to "diving and rafting".
TELL ME WHEN THE REGISTRATION STARTS