01. Acroatia 2024: 19.7.-09.8.
Acroatia 2024 is a 3-week long adventure and you can choose if you want to come for 10 days or 3 weeks. 
In our spotlight are S-basing and L-basing, and we offer 3 workshops in each slot, different in their level and topic. We have private coaching sessions in and out of the longes where you can come up with something you're already working on and need a bit of knowledgeable guidance to make it safe and smooth. 
There are morning yoga workshops to get your day started on the right leg, a floorwork or a handstand workshop to get you groovin' in your body, and therapy sessions after dinner to relax you and soothe those hardworking muscles. 
In addition to the pre-set workshops, we spice it up with workshops picked up by you from our workshop buffet board at the festival. These workshops can, but don't need to be, acro-themed. The sky is not the limit, so bring your instruments, props, and hidden passions with you.
02. Location, location, location!
From the very start, one of our core values was Acroatia's location. It needs to be in the nature, secluded, reduced to a minimum in terms of modern living, and breathtaking. 
Camp Slap is where river Tounjcica meets the river Mreznica, and where we will meet you. The camp is accessible only to those who look for it, separated from the first asphalt road by 5 kilometers of meandering macadam drive. 
Its remote location gives us a chance to dive deep into the training, building a community, and detaching from the buzzing of the city. 
-> We want to make sure you feel comfortable with where you are, and we understand if this isn't everyones cup of tea. Please keep reading to make sure this is an experience you'd like to have.
ABOUT THE CAMP
Camp Slap is a raw experience of being in nature with nature. We wanted to peel off all the unessential layers, place ourselves in a more organic environment, and just be as we are, with bare feet, messy hair, and flying high (yeah, we know, strong hippie vibes). 
Unless you have a car, it won't be possible to quickly make a run to the store for an ice-cream.
FACILITIES
The toilets are dry toilets, meaning that there isn't a flush button. There is a running water faucet at the toilets for washing hands, and we encourage you to use it. 
The showering is mainly in the river. We have also built two secluded showers to provide you with some privacy. For both of those options you have to use eco, completely biodegradable toiletries only!!!
Electricity is limited. We will set up a charging station, but you shouldn't expect an unlimited acces to an electrical socket. 
There is no phone or your phone's wi-fi signal in the camp. We took care of the wi-fi and you will be able to connect to our Starlink, but we can't do anything about the phone signal. This you can find by taking a 7 minute walk up the gravel road. 
ACCOMMODATION
We will sleep in tents (you can rent one from us), dormitory, huts, vans, hammocks, or if you're very adventurous, under the open sky. 
The dormitories are of basic set-up, providing you with a roof over your head and a mattress and a pillow underneath it. The huts are the same, just with less people next to you. 
For all options you will need to bring your sleeping bag. 
How to get there:
When traveling (finally) to Acroatia you want to aim first towards Zagreb. Afterward, you can choose between a train, a bus or renting a car. From Zagreb you aim for Ogulin. Traveling by train is slower than taking a bus. In Ogulin we pick you up. All the details will be provided in the welcome letter.
We strongly encourage you to share rides and offer one if you have a spot in your car.
03. Teachers
Teachers at Acroatia are always people who inspire us, whose work we know first-hand, and who take their craft to the next level. It's a colorful box filled with acrobats, facilitators, circus artists, and movement devotees.
We are in the process of the teacher selection for 2024…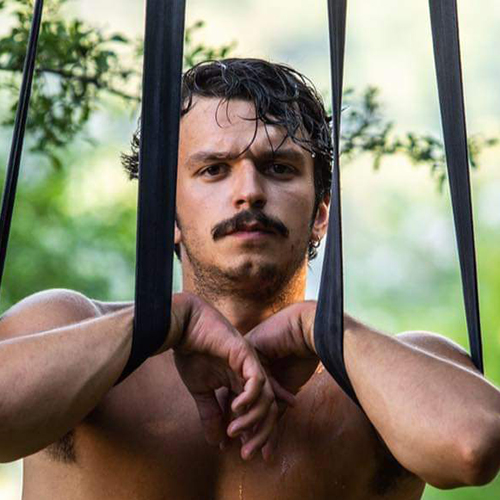 Jef Kinds
Do not ask about his moustache
Sara Bauchmuller
Handstand and Pilates Queen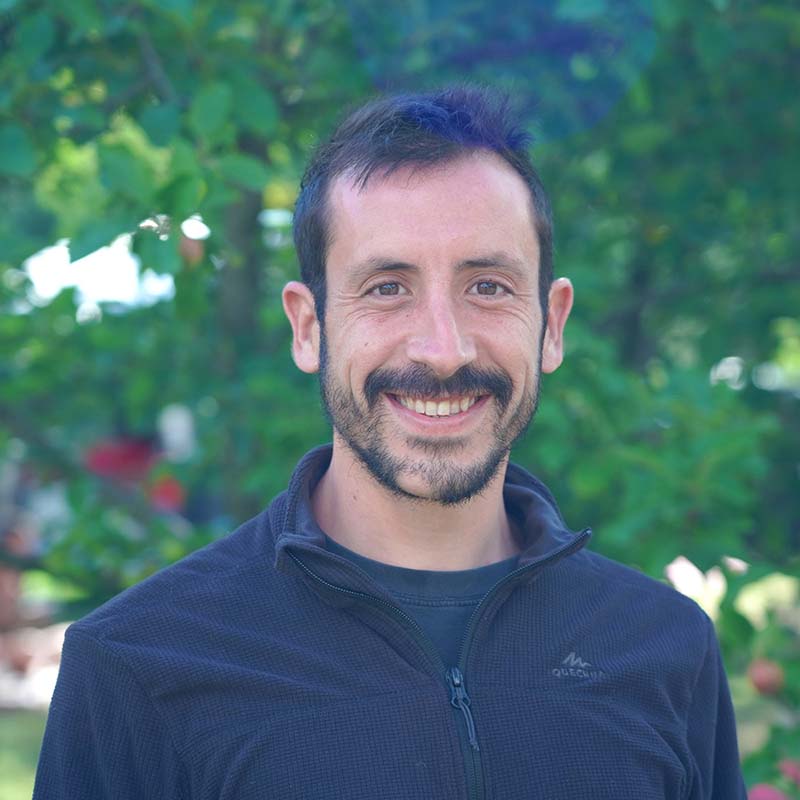 David Sanjuan
Acroatia's Swiss knife
General schedule:
Fire and coffee
Yoga (Acro)
Breakfast
Handstands/Floorwork Acrobatics
Acro Workshops & Coaching
Lunch
Partner Acrobatics & Acroyoga Workshops & Coaching
Dinner
Therapy
Fire and music
05. Food
Our cooks are wonderful Neven, Aleksandra, and Bart; they have magic hands and big smiles!
Food is mainly vegan, and we provide vegetarian options on a meal basis as well. 
We also offer meat options 3 times in each 10 days.
Please bring your cutlery, cup, and plate/s. 
We can't offer you a space in a fridge, so if you bring food with you, make sure you have a place to store it.